NEWSLETTER
Our Fall Tour of events has concluded, and we're excited to announce that our inventory is now available online again! We've had an incredible time this fall, traveling and setting up booths at multiple events. Our journey began with Hay Days, marking the official start of winter in North Branch, MN, from September 9th to 10th. Following that, we headed to the DustBowl at Spuds Speedway in Caribou, ME, from September 29th to October 1st.
The next weekend took us to the NH Grass Drags. While we are still on the waiting list for an official spot, we had a blast hanging out with the Rave X and Backwoods BMP Crews. October 29th was our first open house at our shop, which saw a tremendous turnout!
Continuing our tour, we visited Land N Sea Powersports in Waterbury, CT, for their open house on November 4th, followed by Rave X Motorsports in Portland, ME, for their event on November 11th. Our final stop was the Sled Expo at the Big E in West Springfield, MA. A huge thanks to everyone who visited our booths and supported our brand.
Thank you,
-EightFifty Co.
UPDATED: 12/01/2023 4:05 PM EST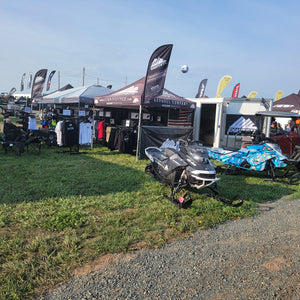 Hay Days 2023
Hay Days 2023
Hay Days 2023
Hay Days 2023
This section doesn't currently include any content. Add content to this section using the sidebar.
HAY DAYS 2022
HAY DAYS 2022
HAY DAYS 2022
HAY DAYS 2022
Testimonials
"Great Packaging! Quality shirt, awesome fit and its very comfortable!"

Ben D.
"I have loved everything I've received from EightFifty Co. My T-shirt fits great with an obvious quality that you can feel. Love the SnapBack trucker hat, good quality and doesn't fly off my head on the bike. But… my favorite is the hoodie! Super comfortable, fantastic fit, warm, and I'm pretty sure it cured my E.D."

Josh L.
Sign up!
Be among the first to hear about future products, discounts, events and more!